Assay Development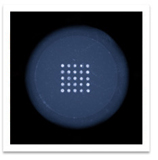 Let MI become part of your development team. Whether your project is academic research or in development as a commercial product, MI's services can ease your path to the highest quality arrays. We bring our experience of more than a decade in microarray-based assays to your project using:
the latest technological advances in the field of microarrays
MI proprietary methods and technologies
extensive experience in working with a wide variety of probe and sample types
Creating the most imformative array to assess specific conditions requires in-depth knowledge in a variety of highly technical fields. MI can contribute extensive expertise in early stage diagnostic assay development, assay and microarray validation, and unique manufacturing capabilities to produce the most accurate and precise array for the application. From the development of an assay concept through the testing phase and onto production, MI scientists are available to you for consultation throughout the process.